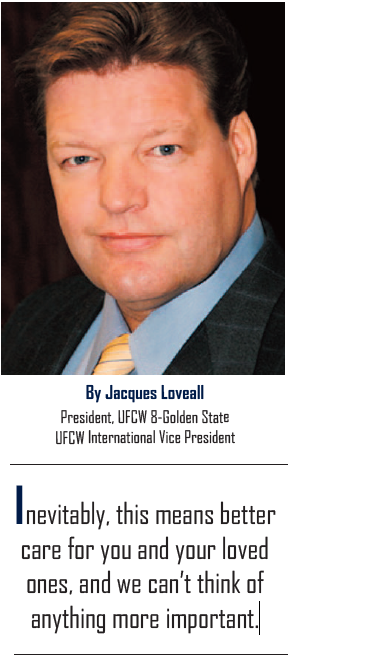 As a Union serving many tens of thousands of active members and retirees, as well as their spouses and dependents, UFCW 8-Golden State is a major consumer in the world of health care delivery. We work with employers to administer self-funded trust like the UFCW and Employers Benefit Trust (UEBT) which have paid out billions of dollars over the course of several decades to medical providers on behalf of our hardworking members.
We regard it as a sacred responsibility to ensure every penny is spent wisely in the best interests of the people we are so honored to represent. This means doing everything in our power to improve the delivery of health care and fight back against spiraling costs.
In Northern and Central California, this task has been made especially challenging because one institution, Sutter Health, has had a near monopoly in the field. Over the years, Sutter used this dominance to eliminate competition and drive up medical costs faster than other regions of the country have experienced.
So, much in the same way as workers band together to negotiate better wages, benefits and job security, a coalition of health benefit funds, with UFCW 8 and UEBT at the forefront, came together to take on the Sutter monopoly in the courts. And we succeeded.
In 2020, Sutter Health agreed to settle a historic anti-trust lawsuit. Under the settlement's terms, Sutter agreed to:
• Pay $575 million in damages to more than 400 self-insured health care plans;
• Limit the fees Sutter can charge patients for out-of-network services;
• Increase transparency by permitting employers and self-funded plans access to information on pricing, quality and cost;
• End all-or-nothing contracting deals, which required employers and self-funded plans to include all of Sutter's hospitals and facilities in their networks;
• End anti-competitive bundling of services and products, which forced 2022employers and self-funded plans to purchase more services or products from Sutter than were needed.
Now, we have taken a new step to expand on these victories.
All Trusts Cooperative
A coalition of health care plan trustees, administrators and other stakeholders called the All Trusts Cooperative (ATC), is committed to controlling costs, combating the abuses committed against health plans and providing a voice of advocacy for the hard-working men and women who use their hard-won health care benefits.
In addition to the Sutter Class Action Lawsuit settlement, the ATC's successes and ongoing projects include:
• Expanding its purchasing coalition to negotiate better terms and conditions from PBMs, PPOs and other service providers;
• Continuing health care infrastructure initiatives to facilitate equity ownership for trust funds in companies providing services to fund participants;
• Identifying best-in-class service providers and cost-saving strategies;
• Revealing abuses in the cost or delivery of health care which may warrant litigation;
• Advocating for and pursuing legislation to lower health care costs;
• Coordinating activities to enhance participant health care benefits.
Every dollar saved, earned and recovered translates into improved or added benefits for plan participants.
Inevitably, this means better care for you and your loved ones, and we can't think of anything more important.
Solidarity Works!