Coronavirus information, updates, and resources
Report an Issue
If you are a member with a COVID-19 concern in your workplace, please report it to us.
Report Now
Free at-home COVID-19 test kits are available from COVIDTest.gov
Each residential address is eligible to receive four free at-home test kits. How to order your free COVID tests. Just visit COVIDTest.gov and click "Order Free at-Home Test" then fill in the form with your contact and shipping information to request your tests and click the "Check Out Now" button.
For more information, check out this Fact Sheet from the White House.
Supplies are limited to four free tests per residential address. Tests are expected to ship within 7-12 days via USPS.
Below are links to two sets of Frequently Asked Questions (FAQs) that cover order details, bulk ordering, test usage, delivery and timelines, and more plus attached resources.
– CovidTesting.Gov FAQs (English) (Spanish)
– National Association of Community Health Workers FAQs
---


The COVID-19 vaccine is here. And everyone in California will get a turn.
Safe, free, and effective COVID-19 vaccines are now available to everyone age 12 and up. Let's end this pandemic. Check for available appointments and book your vaccination as soon as you can.
Visit https://myturn.ca.gov for details.
---
Clinical Resources for Each COVID-19 Vaccine
Find information for COVID-19 vaccination administration, storage and handling, reporting, and patient education for each specific vaccine,
From the CDC | Español  From CA.gov | Español
---
Get Your Digital COVID-19 Vaccine Record
Just enter a few details to get a link to a QR code and digital copy of your COVID-19 vaccination record. If you want to share your proof of vaccination, you can use either the electronic version you'll get from the portal or the card you were given at time of vaccination.
Visit myvaccinerecord.cdph.ca.gov for details.
---
March 2022 –
UFCW TRUST FUND
– COVID-19 Sick Leave Requests – EXTENDED: COVID-19 Sick Leave Rules for UEBT/UCBT eff. 3/20/2020 and will end on August 31, 2022. Read more:
www.ufcwtrust.com
February 19, 2022 –
COVID-19 Supplemental Sick Leave
– Covered employees in the public or private sectors who work for employers with 26 or more employees are entitled to up to 80 hours of 2022 COVID-19 related paid sick leave from January 1, 2022 through September 30, 2022, immediately upon an oral or written request to their employer, with up to  40 of those hours available only when an employee or family member tests positive for COVID-19.
---
Consumer Financial Protection Bureau: Find help with rent and utilities
If you're looking for help with housing costs, you're not alone.
State and local organizations are distributing federal rental assistance in their communities. The money can help landlords and renters who are struggling to keep up with rent and other bills.
Many programs take applications from both landlords and renters.
Use the link below to find your local program. If you find more than one program, start with the closest one to you.
Read more: https://www.consumerfinance.gov/coronavirus/mortgage-and-housing-assistance/renter-protections/find-help-with-rent-and-utilities
---
June 18, 2020: Wearing face coverings in most settings outside the home is now required in California to slow the spread of COVID19. Read more on the state's new face-covering mandate here: California Department of Public Health Guidance.
As the coronavirus crisis grows, UFCW 8-Golden State, along with California's unions, are responding to make sure workers are better protected. Click here for a special Voice of Action Extra message from President Loveall.
We're working to ensure our members and communities have the information they need to protect themselves and their families. Here is the UFCWTrust Coronavirus 2019 (COVID-19) Resource Sheet, which provided a list of great resources for your benefits.
The California Labor and Workforce Development Agency (CLWDA) has a growing list of resources on COVID-19/coronavirus for workers and employers.
The CA.gov website also has a COVID-19 in California (covid19.ca.gov) site full of useful resources.
---
March 4, 2020 – Governor Newsom issued an executive order which includes waiving the one-week waiting period for unemployment and disability insurance. Click here for more on California's paid sick days law and coronavirus.
The AFL-CIO is tracking the federal response. View the list of federal resources below, which was compiled by the AFL-CIO and are also linked here.
GENERAL GUIDANCE AND RESOURCES
CDC: Prevention and Treatment | Español
CDC: Interim Guidance for Businesses and Employers to Plan and Respond to Coronavirus Disease 2019 (COVID-19), February 2020| Español
CDC: COVID-19 Information for Travelers | Español
CDC: COVID-19 Frequently Asked Questions and Answers | Español
CDC: What to Do If You Are Sick with COVID-19 | Español
CDC: Stress and Coping| Español – The outbreak of coronavirus disease 2019 (COVID-19) may be stressful for people. Fear and anxiety about a disease can be overwhelming and cause strong emotions in adults and children. Coping with stress will make you, the people you care about, and your community stronger.
OSHA: Protecting Workers During a Pandemic fact sheet
OSHA: Information for Workers and Employers About the Coronavirus Outbreak
OSHA: COVID-19 Control and Prevention
OSHA: Interim Guidance for Business Travelers
WHO: Information and Guidance Regarding the Current Outbreak of Coronavirus Disease (COVID-19)
WHO: Coronavirus disease (COVID-19) advice for the public: Myth busters
---
UFCW United Latinos (ufcwunitedlatinos.org) COVID-19 Material
COVID – 19 INFOGRAFIAS PARA REDES SOCIALES Y SITIOS DE TRABAJO
DURANTE COVID-19 TRABAJADORES ESENCIALES NECESITAMOS
SALUD Y SEGURIDAD PARA LOS TRABAJADORES DURANTE COVID-19
Síntomas de Coronavirus vs. Influenza (Flu) y Alergias
The Families First Coronavirus Response Act (FFCRA or Act) requires certain employers to provide their employees with paid sick leave and expanded family and medical leave for specified reasons related to COVID-19. These provisions will apply from April 1, 2020 through December 31, 2020.
Kaiser: Kaiser Permanente CORONAVIRUS/COVID-19 Response
Blue Shield: Blue Shield CORONAVIRUS/COVID-19 Response
CARES Act – Fact Sheet – The Coronavirus Aid, Relief and Economic Security (CARES) Act (H.R. 748), approved by Congress on March 27, 2020, includes a number of economic supports that will immediately help America's workers.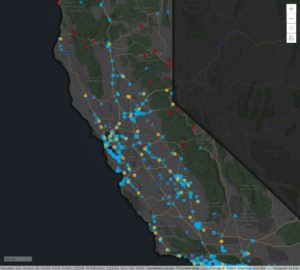 California is expanding coronavirus testing capacity daily. Governor Newsom announced COVID-19 Testing Task Force, a public-private collaboration that is working to scale up testing quickly.
Find a testing location: https://arcgis.com/apps/Nearby/index.html?appid=43118dc0d5d348d8ab20a81967a15401
As capacity increases, testing will expand according to the discretion of the Local Health Officer. Priorities include:
Tier 1:
• Hospitalized patients
• Healthcare workers, first responders, and other social service employees
• Any symptomatic person
• People exposed to infected individuals in places where COVID-19 risk is high
• Asymptomatic residents or employees of group living facilities including:
o After positive cases have been identified in a facility
o Before resident admission or re-admission to a facility
• People in essential jobs (This includes workers supporting groceries, pharmacies, convenience stores, and other retail that sells food or beverage products, and animal/pet food, retail customer support service, information technology support staff, for online orders, pickup/takeout or delivery.)