WELCOME TO UFCW 8 – GOLDEN STATE
As a member, you have the highly experienced professionals of UFCW 8-Golden State who are trained to help all members, wherever you work.
Your District Union Representatives are there to keep members informed of developments, including contract negotiations, changes in laws and regulations affecting the workplace, and events of interest to the Union family.
UFCW 8's dedicated and well-trained office staff is available to help you by providing general membership info, explaining benefits, assisting with filing grievances, acting as a liaison for medical and pension issues and so much more!
UFCW 8 Office Locations
The UFCW (United Food and Commercial Workers) is a group of people just like you who stand together to protect their rights at work and improve their lives.
As a member of UFCW 8-Golden State, you are a vital part of a great organization whose only purpose is to look out for the best interests of you and your family.
Your Union makes sure you are treated fairly, makes sure your health care is there when you need it, and helps during personal or family crises. You're part of a family that looks out for you and yours every day.
About UFCW 8
Weingarten Rights
The Supreme Court ruled that Union-represented workers have the right to Union representation during all meetings or discussions with supervisors or managers that the member reasonably believes might lead to discipline.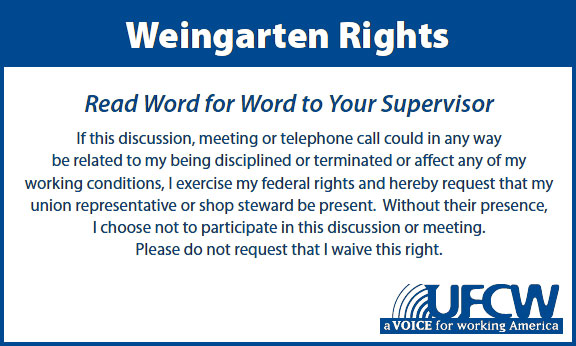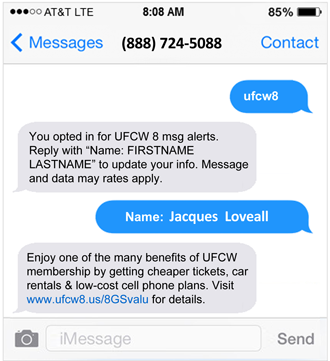 Text "UFCW8" to
(888)724-5088
to sign up for member alerts.
This is an alert system for members of UFCW 8-Golden State. Incoming messages are not regularly monitored. To reach UFCW 8, please contact an office listed at the bottom of this page. Message & data rates may apply.
To the customers … The members of UFCW 8 are your friends and neighbors in the community, and we want you to know how much we appreciate your support!
The choices you make when considering where to shop say a lot about the standards you want for your family and your community.
When you shop at a Union store, you uphold the highest standards for quality, value, safety, and service in the retail food and drug industry.
We are grateful for the customers who support our members, helping make it possible for our members to raise their families, pay their taxes, and participate in building better communities.  Our members are proud professionals who are committed to customer support with the best shopping experience.
Together we prove …
Solidarity Works!