In many cultures, it is customary to do some "spring cleaning" around the house to shed unwanted or unneeded items or to spruce up living spaces after a long and cold winter, but the same concept can be applied to your mind.
Here are a few ways you can let go of the emotional baggage and start a season of renewal for your mind and body:
Pay attention to your thoughts and feelings. Try to find a positive way to think about your problems. It may seem difficult at first, but if you do this repeatedly, it will become a habit.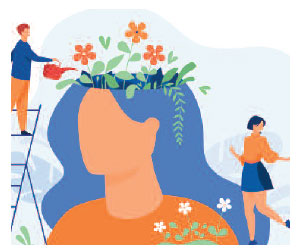 Try meditation. Try setting aside a few minutes a day to sit alone with your thoughts. Focus on your breathing and how your body feels. Doing these exercises can help relieve some of your stress. Meditation apps are widely available on Apple and Android devices.
Try to let go of negativity. If you have a trusted person in your life who can listen to these thoughts, try confiding in them and then let the resentment go.
Focus on gratitude. Think about one thing you are grateful for in your day. Is it the latte you bought on the way to work? Focusing on the things which make you happy in small ways can help you deal with negativity better.
Turn off electronics. Endless scrolling on Instagram or arguing politics on Facebook can contribute to your feelings of stress and negativity. Set a time limit on your technology use and have a consistent bedtime each day.
Focus your energy on your community. Do you find yourself thinking about an old friend or acquaintance you haven't talked to in a while? Send a quick text or message to let them know you're thinking of them. Wave or say hello to a neighbor. Small conversations with people in your community can help you feel more connected to them.
UFCW 8-Golden State Spring 2022 Voice of Action Newsletter