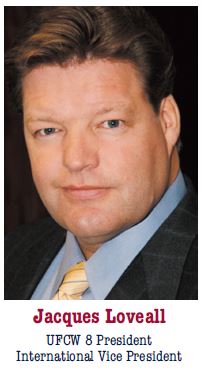 UFCW 8-Golden State's current agreements with several major supermarket employers are set to expire on Oct. 9 and 10. These employers include Food Maxx, Raley's/Bel Air/Nob Hill, Safeway/Vons and Save Mart/Lucky, as well as some smaller stores and chains.
This Union is intent on reaching new agreements in order to protect and improve the wages, benefits and working conditions currently enjoyed by Union grocery workers from the Oregon border in the north to Kern County in the south.
Predictably, the lackluster responses of the employers and the incremental progress we've made to date indicate they want to "slow play" these negotiations.
The employers are aware we expect the commitments you've shown to your companies and the sacrifices you have made throughout the COVID pandemic must and will be rewarded. Ignoring this expectation will not prevent us from succeeding in securing what you need.
While an incredible amount of effort is necessary to achieve fair agreements which you will be proud to ratify, there is no reason why this bargaining needs to be extensively protracted.
We already have our objectives clear in our minds. Thousands of our members in the industry have completed questionnaires in which they described their priorities. This information has been helpful as we engage the employers.
The lessons of success in our past and the challenges of our own time teach us solidarity with your Union will be the key to success in these negotiations, as it is in everything we do.
It is crucial for all of our members to remain resolute in their support for our negotiating teams.
Your Union will keep you informed of developments as they occur.
Negotiators are working hard for new agreements which recognize what you deserve.
In the meantime, support your Union in word and deed. Don't pay attention to rumors and don't spread them.
Above all, stay strong and stand united, because…
Solidarity Works!