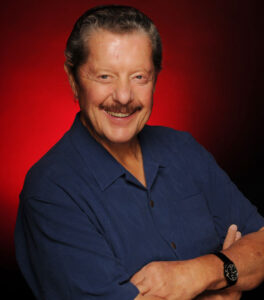 Jack Loveall began his career in the retail grocery industry in 1949, when he worked as a part-time grocery clerk for Wrigley Markets in Detroit. He joined the Retail Clerks International Union in 1953 and became a Union Representative for Local 876 five years later.
Jack soon became the local's Organizing Director and President of the Michigan States Council. In 1965, Loveall went to work for the International, where he was appointed as Executive Assistant to the Director of Organizing. He was then promoted to Executive Assistant to the International President. From there he served for five years as Regional Director of the Metro New York and New England areas. He then was appointed Regional Director of the Southwest Region, which covered California, Arizona, Nevada, Utah, and Hawaii. He held this position for 11 years.
Jack Loveall's ingenuity and dedication to working people helped him climb to the upper echelon of the International Union's governing body by being elected International Vice President in 1971. He served as the Senior International Vice President of the United Food and Commercial Workers International Union for over 30 years until his retirement in March 2005.
In 1984, Jack brought his extraordinary record of accomplishments to the local level on assuming the presidency of UFCW 588-Northern California. Loveall immediately made growth and organizing a top priority. His head-spinning success in the arena is demonstrated by the quadrupling of the membership of UFCW 588 during Jack's tenure.
Jack's status as one of America's most respected Labor leaders has allowed him to pursue the interests of working people at all levels of government, vigorously fighting for everything from a livable minimum wage to national health care.
Jack has worked throughout the world representing American workers and carrying the message of the Labor Movement to workers.
His many titles and honors over his career include being the Chairman of the UFCW Universal Trust Fund, Chairman of the Northern California Joint Labor/Management Committee, President of the Coalition of Organized Labor and Chairman of the James T. Housewright Scholarship Fund. He and his wife, Patricia are the namesakes for the Loveall Foundation for Children, an all-volunteer charity providing meaningful opportunities for children to overcome challenges, live better lives and reach their full potential.
Jack and Patricia have seven children and six grandchildren and five great-grandchildren.