UFCW Free College Program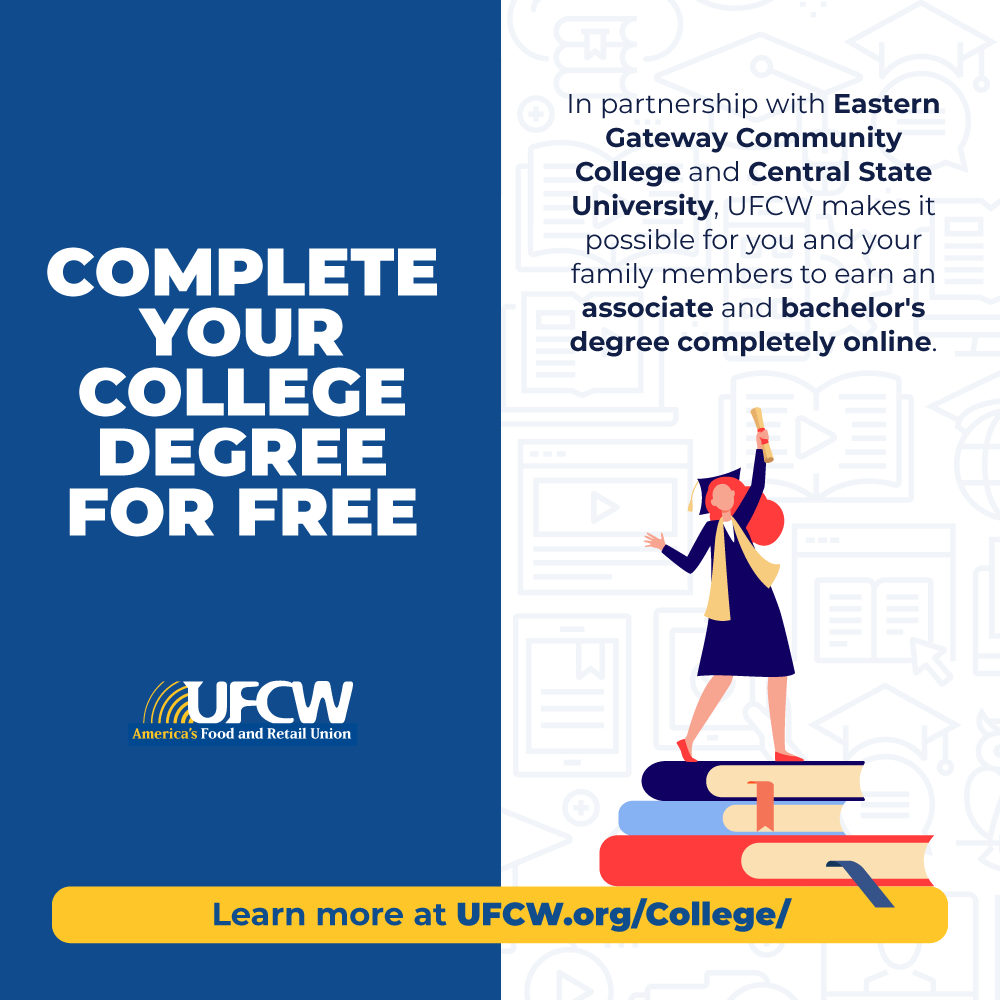 The UFCW Free College Benefit makes it possible for you and your family members to earn an Associate Degree completely online – for FREE
Eastern Gateway Community College is regionally accredited by the Higher Learning Commission, so credits you earn are transferable. Over half of all college students choose community college to begin their higher education and they provide students with a solid foundation to continue their education.
You won't pay any out-of-pocket costs for tuition fees or e-books. To be eligible, students must simply apply for federal financial aid and apply any grants or tuition reimbursement to their EGCC bill. The Free College benefit will cover the rest- even if you aren't eligible for any other aid!
EGCC will work with you to ensure that any previous college work or relevant work or military experience counts toward your degree.
Online classes let you balance life's demands, making it possible to go back to school while you continue to work. You can choose either 8 weeks or 16-week classes, and 24/7 access means you can work on assignments any time of day, anytime during the week! You can graduate from a respected, regionally accredited academic institution. EGCC is governed by the Ohio Department of Higher Ed and is part of the University System of Ohio. EGCC is transfer-friendly. They strive to ensure you get as much credit as possible toward your degree for previous work. And the credits and degree you earn at EGCC are transferable to colleges all over the country.
After partnering with Central State, UFCW members can earn a Bachelor's Degree for Free completely online
In partnership with Central State University, UFCW makes it possible for you and your family members to earn a bachelor's degree completely online.
Bachelor's degrees offered:
Teacher Education
Business Administration
Criminal Justice
Interdisciplinary Studies in Humanities
Eligibility:
Students who have earned an Associate Degree or at least 60 credits with a 2.2 GPA or better in the field of study. Students needing pre-requisite classes or to boost their GPA can enroll in the Free College pathway programs with Eastern Gateway Community College.
To learn more about programs, requirements, and deadlines, please visit: https://www.ufcwfreecollege.org/bachelors-degree/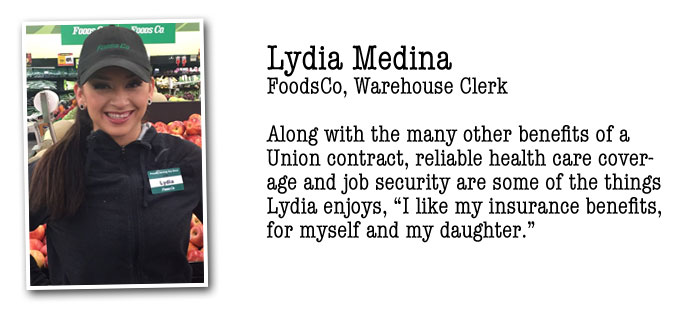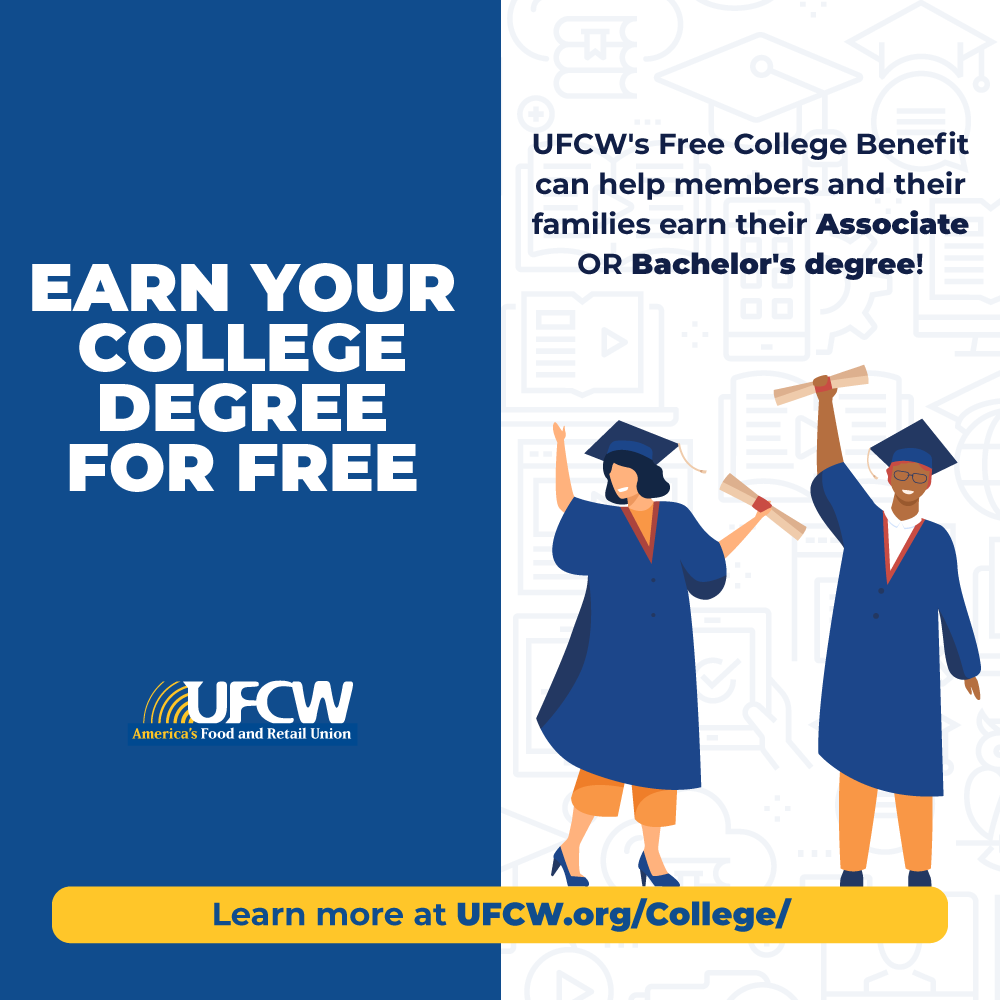 Click below for more info:
+ Which online degree program are you interested in?
+ What is Your Status with UFCW?
+ Name of UFCW Member
+ Where is the UFCW Member Employed?
+ Local Union Number

Accounting
Business Management Degree
Advertising
Cyber Security
Labor Studies
Human Resources Management
Information Technology

And more!
+ What is the Free College Benefit?
+ Who can receive the Free College Benefit?
+ Which programs are offered through the scholarship program?
+ Is this for real?
+ Is EGCC Accredited?
"WHAT A GREAT PROGRAM!"
I found out about the Free College program in the Fall of 2017.  At that time, my son was in the middle of his Computer Science Bachelor's Degree at UMUC and lucky for us, had not taken any of his general education classes.  We were able to enroll him in the program and take advantage of 22 transferable credits, which saved us $11,308.00 If we had known about this sooner, we could have saved even more.  What a great program!
"I DISCOVERED IT WASN'T TOO SCARY, IT WASN'T TOO HARD AND I'M NOT TOO OLD TO LEARN"
My first semester went great! I have a 4.0 GPA so far. I discovered it wasn't too scary, it wasn't too hard and I'm not too old to learn. I'm taking 4 more classes this semester and so far, it's going well. I'm hoping to take a class or two over the summer and hit the books again in the fall. Thanks for checking in. I'm enjoying my new adventure!
Melissa Buie
"THE MOST DILIGENT AND HELPFUL ADVISOR TO MY WIFE AND I THROUGHOUT THE ENROLLMENT PROCESS!"
I would like to take a moment to commend Veronica Jackson for being the most diligent and helpful advisor to my wife and I throughout the enrollment process. We faced quite a few hiccups while trying to register my wife for the upcoming Fall semester. She just migrated to the United States last year and as a result, some of the required documents were uniquely different from that of the standard applicant. We could always count on Veronica to answer or return our calls promptly. She treated every inquiry with urgency, patience, and care. We felt relieved to know that she was there to guide us through this, our first experience enrolling in online classes and my wife's first time attempting to matriculate in a US college. Our gratitude is beyond what words can express.
We thank you, Veronica, for all that you do. Continue to shine with grace and work with passion. Your efforts do not go unnoticed.
Clayton J. McIntyre
"E.G.C.C. DEGREE PROGRAMS ARE IN FACT FREE."
I graduated in May 2017 with an Associate of Applied Science in Criminal Justice with Police Academy Option. Approximately 35-40 members or family members of the Fraternal Order of Police were in this first graduating class from Eastern Gateway Community College. I have had the distinct pleasure and privilege of speaking at our Ohio State conference and at our National Conference about this unique partnership for free education.
As a member of the first group to attend E.G.C.C. there were a few glitches along the way. The faculty and staff at E.G.C.C. were always accessible and worked quickly to address any concerns. The application process, FAFSA application, and transfer of credits went very well. All my previous college classes transferred, and I was given credit for academy training. The various continuing education classes I have taken were evaluated and I was able to receive credit for some of those classes.
E.G.C.C. degree programs are in fact FREE. The only cost I incurred was for a cap and gown to wear at the graduation ceremony. My son-in-law also completed his A.A.S. in Criminal Justice (Summa Cum Laude) and wanted to participate in the graduation ceremony. He also had no costs except the cap and gown.
Without the partnership between the F.O.P. and E.G.C.C., neither one of us would have completed a degree. Being able to participate in this program has allowed me to increase my evaluation points and promotion points at work. It also has put me in position pursue further education.
Thank you for all you have done to assist the members of the Fraternal Order of Police. If I can be of any assistance to you or the college, feel free to ask.
Darrel Ball
"I CAN ONLY TAKE ONE CLASS AT A TIME SINCE I WORK FULL TIME"
Unfortunately, I can only take one class at a time since I work full time, but I'm on class 7 or 8 right now. So my 2-year program will likely go for 3+ years. I never really liked school and struggled a lot. I still have a hard time, but it's a great feeling of accomplishment when I finish a class. And quite a shock to receive A's and B's!
AA in Business Administration. I have an awesome job with the State of Alaska and don't intend to "further my career" at this point. I'm doing this simply because I can. J Hahahhaha! I didn't really have the opportunity to attend college after high school and then spent the next 20 years raising my boys, so I just want to be able to say, "Yes! I do have a degree."
Dawn Duval